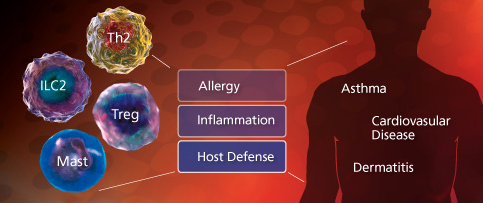 eBioscience offers one of the world's largest selections of antibodies, ELISAs and proteins for life science research and diagnostics. They are the industry leader in reagent, offering multicolor flow cytometry. They provide a comprehensive and innovative portfolio of antibodies, fluorochromes, and reagents for immunology, oncology, cell biology, stem cell biology, and diagnostics.
Featured products:
Multicolor flow cytometry reagent

Antibodies to IHC

ELISA kits

In addition to multicolor flow cytometry reagents, eBioscience offers a broad spectrum of reagents for the analysis of cytokines, growth factors and other soluble proteins. They offer bead-based multiplex immunoassays for the flow cytometer, ready-to-use ELISA kits, matched antibody pairs, proteins and standards providing a complete solution for biological system analysis.
---
For more information, please contact us at This email address is being protected from spambots. You need JavaScript enabled to view it. or visit eBioscience website
Biomed Diagnostics เป็นตัวแทนจำหน่ายผลิตภัณฑ์ Applied Biosystems (by Thermo Fischer Scientific) ในประเทศไทย